Let me introduce you to Mr. Bear.. Mr. Bear was a bear that was given to Ami when he was born, he was attached to a blanket and he has a rattle in his head. Mr. bear was not given a lot of attention, then.. all of a sudden, one day Mr. Bear became Ami's most favorite toy in all the word. Except for "the blankie" The blankie is another story for another day!
No matter where Ami went… Mr. Bear had to follow and strict orders were given by Ami's mommy that Mr. Bear was for sure to return home with him.
A few weeks ago, Ami made a trip to my home. Ami and Mr. Bear are always welcome and we had a fun time making cookies and telling stories and falling asleep.
I had a wedding the next day and was not around when Ami went back home… two days later
My daughter tells me Ami shouts "Grandma has Mr. Bear" and throws himself in dramatic mode onto the floor. She assures him that I will bring Mr. Bear to him.
The search begins… WHERE is Mr. Bear?
Under the beds….beside the beds, under pillows, bathroom, hall closet, under clothes piled in rooms, in kitchen, office, trunk of car, back seat of car, family room, laundry room, under couch, behind couch… OH MY GOSH.. where is Mr. Bear? Laundry pile, garage, shoe closet, desk, drawers, closets again, bathroom again and I repeat this cycle 3,4 times. NO MR. BEAR!
So, we get this idea… EBAY and we search and yes…YES there are a few Mr. Bears to choose from. We are so sure in our decision and we order Mr. Bear part 2.
Have you ever tried to trick a 3 year old? Do you even realize how smart they are?
Mr. Bear Part 2 arrives and I make sure he smells like our house (don't ask and I won't tell) I'm so excited and I know… we can pull this off… but a face of a 3 year old is a bit daunting when you are not sure… We had to have our game faces on and we had to make sure we knew it was Mr. Bear.
The day arrives and Ami and his mom and dad meet us at the Galleria Mall. I've had Mr. Bear Part 2 in my purse and I can't wait to pull this off. I see Ami as he approaches I give him a hug, and I tell him. Guess who I found… His eyes open wide and I show him Mr. Bear Part 2. Ami shakes Mr. Bear and says… "umm that's not Mr. Bear. I look behind him and both his parents are red faced and almost on the ground in laughter. I later learn… as my daughter said "once you shook him we knew it was not Mr. Bear, Mr. Bear sounded different.
Ami and I examine Mr. Bear and Ami starts to rub Mr. Bears forhead.. then states.. why are his eyes like that, so I explain how Mr. Bear's eyes changed a bit because he was hiding for a while. Trust me lies never work!
Ami is not thrilled and basically tosses Mr. Bear part 2 into his mom's arms and he's ready to shop.
Later on I'm told he further examined Mr. Bear part 2 and says.. Mr. Bear has stripped shoes now, and he has a tag on his back.
I'm sure we have failed.
So kneeling down, in the middle of Galleria Mall, I tell Ami the truth about Mr. Bear part 2. He's kind and compassionate to me. So I ask him. Ami, did you hide Mr. Bear, he shakes his head yes. I say where? I get a shoulder shrug. I ask in Uncle Luke's room? NO! In the basement? YES! In the laundry room? NO!, Behind the couch? NO! Under the couch? YES! YES? YES! Omgosh… Mr. Bear is under the couch.. did you hide him Ami? YES!
I look at his mom and she assures me, he's pretty accurate when he hides things.
I can't wait to get home.
Now I have to explain that his Uncle Luke assured me he checked in and under the couches! *yes I want no blame in this*
As soon as I get home I make a bee line to the basement and lift up the couch pillows, OMGOSH..right there, smooshed is Mr. Bear. I could not believe it.
Wow, was I happy to see him. I gave him a bath and waited for the day to take him to Ami's home.
The day arrived and I could not wait to show Ami. I also wanted to see if he really did know Mr. Bear.
I explain to Ami that I have indeed found Mr. Bear. He looks at me and I show him Mr. Bear. He gives him a look over, sniffs him and shouts.
"MOM, Mr. Bear is home"
Now, I can't tell you how good this feels, but the story does not end here.
Christmas Day I show up at Ami's and we all are talking about Mr. Bear part 2 and we wonder if Ami indeed can tell the difference. We find Mr. Bear part 2 and we get Mr. Bear and we put them side by side.
Mr. Bear has had lots and lots of love and even though he has a tag on his back and stripes on his feet, it's obvious that the well loved Mr. Bear has faded and is much less bright blue then Mr. Bear part 2.
We put them side by side and ask Ami to pick Mr. Bear. In an instant, he grabs Mr. Bear and separates him from his fake counterpart. Later he grabs Mr. Bear part 2, tosses him into my lap and exclaims: "Here, you can have Grandma's Mr. Bear".
So all is well and swell now. Ami is happy with Mr. Bear and my desk has become the new home of Mr. Bear part 2, now renamed, Grandma's Mr. Bear.
I've learned a lot of lessons but the biggest being.
Don't think a 3 year old is not observant and don't think you're smarter then a 3 year old.. It's just not gonna happen!
I can't leave you without showing you Mr. Bear and Grandma's Mr. Bear aka Mr. Bear part 2!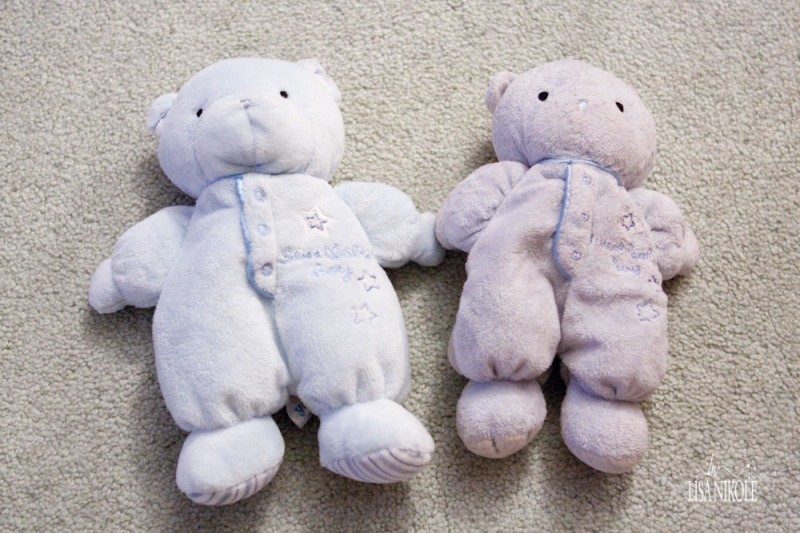 and of course, a picture of Ami with his dear friend, safely back in his arms.